Note: This website is best viewed with Mozilla Firefox. Some features do not work well with Internet Explorer. You can download Firefox at http://www.mozilla.com/en-US/firefox/
May 30, 2009
Steph has been good about sending pictures of Savannah. I haven't posted any in a while so here are some today.
Pretty baby.
May 30, 2009
Sue has planted a salsa garden. Let us know when it is salsa time Sue. Maybe we can jet on up there for a salsa weekend.
Click here to see all that she has planted.
May 26, 2009
It was such a great pleasure to spend time in Arkansas with Robert and his wonderful sons. I had such a wonderful time. It was almost like going home. Mom used to tell me that when she came to my place (where ever it was) was so comfortable and relaxing for her. I now know what she meant. That is exactly how I felt being in Robert's new home. Thank you Robert for making me feel so at home and so comforable. Click on the link to take a tour of Robert's new home.
Click Here


May 25, 2009
A little summer fun in Deming

May 15, 2009
Click on the invitation below to view Josh's graduation.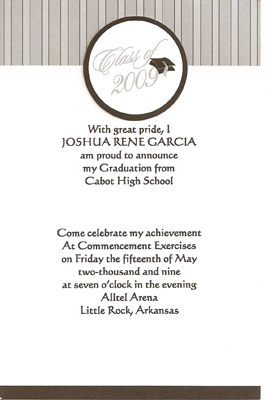 May 12, 2009
Sue added her letter to your letters to mom. Go read volume two.
May 8, 2009
Happy Mother's day Mom
May 9, 2009
Josh goes to the prom. Next step - Graduation!!!

May 5, 2009
Happy birthday Adam. You are not forgotten, just postponed. Check again tomorrow.
CLICK HERE TO SEND A BIRTHDAY SHOUTOUT TO ADAM
May 1, 2009
Here you go Matthew. Click here for your birthday fun page.
May 1, 2009
Happy Birthday Matthew. I hope you have a very fun and happy birthday. I am so sorry but I wasn't able to finish your fun birthday page for you on time. I promise it will be up before your birthday party on Saturday.
I love you very much.
Louie